Testimonials
---
Headache
Hi Ceelynn,
Recently my daughter had a headache and she put a drop of peppermint on her tongue and in less than 5 minutes her headache was gone. She said that the Peppermint on her tongue worked faster than the shots that she usually took for her migraine headaches.
I also have had a headache most of this evening. Probably a sinus headache because my nose was a little stopped up as well. I just put a drop of Peppermint on my tongue and GUESS WHAT .... my headache is gone. I rubbed a drop of Eucalyptus across the bridge of my nose and my nose is now open
Should have used it when I first felt the headache.
Jean Drysdale
---
Brain Power Replaces Ritalin
I have a daughter who has been diagnosed several years ago when she was in kindergarten. Wow! Was put on Ritalin and she has been on it for all these years. We got her off this year (14) by using Brain Power. We don't even touch Ritalin nor even come close to using it. She was first ADHD and then because ADD. Being a typical teenager, the attitude shows. When we put her on the Brain Power, one can actually see and hear the change. It is AMAZING!! She has her own bottle of Brain Power now. She can tell the difference. That is what is important to me.
Jeanie Horsely Dallas, Or.
---
Sulfurzyme Does It Again
I hesitated to reply only because I'm so new, I'm on my third bottle of sulfurzyme now and I've had a big decrease in my acid reflux. I have fibromyalgia too and had a great improvement in that too. I have the head of my bed elevated 6" and was on Prilosec for a long time. Now I'm off the medication and sleeping fine. I still try to eat early in the evening so I don't go to bed with a full stomach. When I was on my first bottle of Sulfurzyme I was still down on the couch at least two days a week, sick and hurting. Now I'm up all day and doing great.
It has definitely changed my life and for that I'm so grateful. God Bless all of you.
Carolyn Peal, Scappoose, OR
---
Stroke Victim Recovers
On January 20, 1996, tragedy struck my family! My daughter, Laurie, age 37, married with 2 pre-teens and an 18 year old; suffered a massive aneurysm to her brain. She was airlifted by helicopter from our little hospital in Arlington,Washington to Harborview Medical Center in Seattle. Harborview is the #1 Trauma Center in the Pacific N.W. Upon arrival at Harborview, all the CT scans, x-rays, blood tests, etc. were run and she was prepared for the surgery that would save her life. At 4:00 a.m. the next morning we were allowed to see her. We were told that she had suffered a stroke while still in surgery. Her head was completely wrapped in bandages, face swollen, eyes blackened, needles and tubes everywhere, an airway down her throat, oxygen tubes up her nose and she was in a coma. If she lived, she would be paralyzed on her entire left side, from the top of her head to her feet. She lived and was paralyzed on the entire left side. When they did her surgery, they had to take out the bone flap that covers and protects the brain from her right eyebrow to right behind her right ear to the top of her head. The bone flap was placed in the freezer until it was to be replaced in her head five months later. Laurie was comatose for what seemed like an eternity. She finally awoke, but they had to do surgery again to implant a permanent shunt in her brain to normalize the fluid level pressure. Laurie was released from Harborview on February 23, 1996 and transported by ambulance to Everett Rehabilitation and Medical Center so that she could continue to recuperate and get the therapy she would need.
Around June 5, 1996 she was returned to Harborview for the bone flap replacement surgery. All these many months she had been fed by tubes as she had to learn all over again how to eat and swallow without choking. Blood clots behind the eyes from her surgery made her all but blind, so in October they operated on her right eye. We will be going again in February to fix her left eye. At the Rehab. Center she had physical therapy every day to re-learn how to walk, sit, bend. Her short term memory was gone. She couldn't remember what time it is or what day, but she remembers the important things from before: family, names, birthdays, etc.
On June 15, 1996 she passed her swallow test and on June 19, 1996 we brought her home. At this point Laurie could take 10 short steps using a walker with her left arm taped to the walker and braces. She would drag her left foot into place then step with her right. Therapists came to the house 3 times a week for the first 2 weeks and then we started out patient therapy 3 times a week. We have stopped the therapy because of the following events.
I became involved with Essential Oils the end of July, 1996 and now Laurie's recovery story really begins. I started by trying to keep us all healthy so we would not effect her recovery. I started applying to the family and to Laurie the following blend. 15 drops each of Lemon, Lavender, Peppermint and Frankincense per ounce of V-6 mixing oil, 2 times a day on feet and spine to keep away colds, flu, sinus and allergy problems. Then Immupower, 15 drops per ounce of V-6 on throat, feet and down the spine to help build her immune system back up and keep her safe from disease. My-Grain, Pane Away and Peace & Calming for her horrible headaches.
In November I started working with Helichrysum to regenerate the nerves on her paralyzed left side. I mixed 15 drops of Geranium, 10 Helichrysum, 6 Cypress, 5 Juniper and 2 Peppermint in 2 Tablespoons of V-6 and applied to the spine, left shoulder, arm and lower leg. Within seconds, her entire left side was itching and tingling and it continued for about 20 minutes. When the tingling ceases, there is a lot of joint pain in the paralyzed areas so I use Pane Away. The pain and tingling means the nerves are regenerating. In the beginning we only did this in the morning as the pain interfered with her rest. We are now able to apply this blend twice a day.
Then I watched the Training Videos by Dr. Young and Valor came into our life. What a Blessing! Raindrop therapy on the spine and 5 drops rubbed on the each foot - Neat! I applied Valor exactly as Dr. Young did in the video. One month of Valor neat and continuing the above mixtures, Laurie walked alone - unaided by cane or walker. She can rise from her chair and has walked as far as 50 feet unaided. The first time I applied Raindrop therapy with Valor, I watched awestruck, as my daughter's spine straightened from the S curve, caused by the wheel chair, into a straight line. Laurie said, "It was like fingers pushing and pulling alongside her backbone, from the base of her spine to the base of her skull."
This testimony with Laurie and Cherry's signature is on file with Maurice Gahagan. Written by Verification: Harborview Medical Center 206.731.4051, patient # 2039730. Cherry Lewis (Laurie's mother)
---
Sore Throat
For weeks now, people around me have been sick in one form or another. Consequently my Thieves, RC, Raven, Cloves, and lots of other oils from my "suitcase" are empty.
I woke up in the night with a VERY bad sore throat. As I sat on the edge of my bed wondering what I would do, the thought came to me that I should just go pick one. As I walked to my "oil room", I said a prayer that He would help me be discerning with my choice. I stopped in the bathroom to refill my water bottle and there was a bottle of Oregano.
The sentence from "The Missing Link" tape popped into my head ..."here's Oregano, how many of you ladies cook with it? Well you should be snorting it." So I picked up the bottle and put just a drop or maybe two on my neck and throat and went back to bed. When I woke up this morning, my throat is very, very much better. I don't know yet if it is stated anywhere that Oregano is for sore throats, but like Frank has recently and not so recently said, you never know what will work because we're all different.
Blessings of the Season to all of you.
Francie
---
EXERCISING SORENESS
Hi oilers...figured I'd give a testimonial on a recent occurrence. This past Sunday I participated with a few hundred others in a Jazzercise Marathon in Del Mar, CA to raise money for breast cancer research. The event began at 10am & went until 1pm. It consisted of 3 segments with 10 minute breaks in between. Basically we exercised steadily for approximately 2.5 hours! I was feeling some "effects" in my lower back. Mostly a "cramping" type feeling.
Afterwards a group of about 7 of us went for lunch. I slipped into the ladies room & applied the only oil I had to my lower back which was Peppermint. Since my pores were VERY open from the exercising, what I experienced was a VERY tingling sensation up & down my back. It was extremely invigorating & lasted quite some time.
The next morning I had absolutely no soreness, stiffness or after effects from the marathon. I went to my normal class & only 2 of the 8 or 9 who participated in the marathon were there...the instructor & me!! He was still complaining of some soreness while I was singing the praises of essential oils.
Margie Peary
San Diego, CA
---
Lung Cancer
Dear Friends,

15 months ago my wife, Linda, was diagnosed with lung cancer. The x-ray showed a near lemon-size tumor with tufts of finger-like growths extending all around the tumor in the upper right lobe of the lung. To make certain the growth wasn't a fungus, the doctor ordered a blood test, which came back negative as a fungus.
Her doctor was then 98% certain the tumor was malignant Linda was then scheduled for lung surgery the following week. The surgeon told us he would remove the upper half of her right lung and that of her lymph glands. I remember we drove home both scared to death of what was happening. We were confident the surgeon could do his job okay, but had serious doubts about Linda not catching a lethal staph infection while in the ICU. Staph infection is a very common problem, which has proved more lethal then the cancer for some. We shared this concern with the surgeon,but he shrugged it off.
We are both believers in God's Word that He is our Healer, so we immediately gave her cancer over to Him for healing. We prayed fervently with conviction, and applied the essential oil blend known as Raven over her chest and upper back. We also used other oils, but Raven was the oil Linda wanted, so we followed her intuition and stayed with Raven. Within a day or two, we called the surgeon's office to decline the surgery. Needless to say, his nurse did all she could to persuade us to re-consider. Two months after the first x-ray was taken to the day, Linda had another chest x-ray taken. To the doctor's amazement, the tumor had shrunk to the size of a walnut. He was dumbfounded, because as he said, "This doesn't happen." We continued in prayer and anointing with Raven. Two months later another x-ray revealed the tumor had shrunk to the size of a pea. The entire floor of the clinic, housing many doctor's and their staff by now had heard of the "miracle girl," as they called her. One nurse wept openly as she hugged Linda. No one in this clinic had ever heard of a lung tumor going into remission without medical intervention.
Today, March 22, 2000, a new x-ray should no visible sign of the tumor, her lungs are absolutely clear. Linda's surgeon, who never operated on her, told us this is the first time he had ever witnessed such a healing. He could not give any medical reason for what his eyes clearly told him had happened. He just kept looking at all her x-rays and shaking his head as in disbelief.
We give God praise, for we owe Linda's life to His love and will to heal her. We also attribute the therapeutic action of the Raven blend of essential oils. Not only did it have a direct effect on the cancer, it allowed Linda to breathe much easier. Used together as a healing modality, we believe prayer and healing oils are without equal. Linda's story of beating lung cancer is a matter of pictorial, tested and written record.
Her medical records are on file at Rockford Health Clinic in Rockford, Illinois. Her doctors are Dr. Rogers, Dr. Mellies and Dr. William Sacksteder, who I am certain must be sharing Linda's story with his Fellows this day.
Please share this story of healing with others.
In praise of our Lord, forever!
Jim Lynn
---
Request Your Free Missing Link Tape today
and Learn How you can revitalize your health with nature's medicine..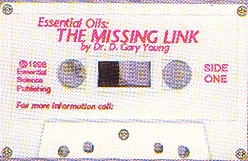 Please send email to:
for a FREE information package...
we ship within 24 hours via Priority Mail!
---
For a Full Missing Link Tape Text Transcript
Send a blank email to:
missinglink@oildrops.com
---
WHILE AMERICA SLEEPS ... FREE report
about the menace of airborne infectious diseases and
HOW YOU can prepare. Send a blank email to:
biowarfare@oildrops.com
---